Portfolio | unfettered light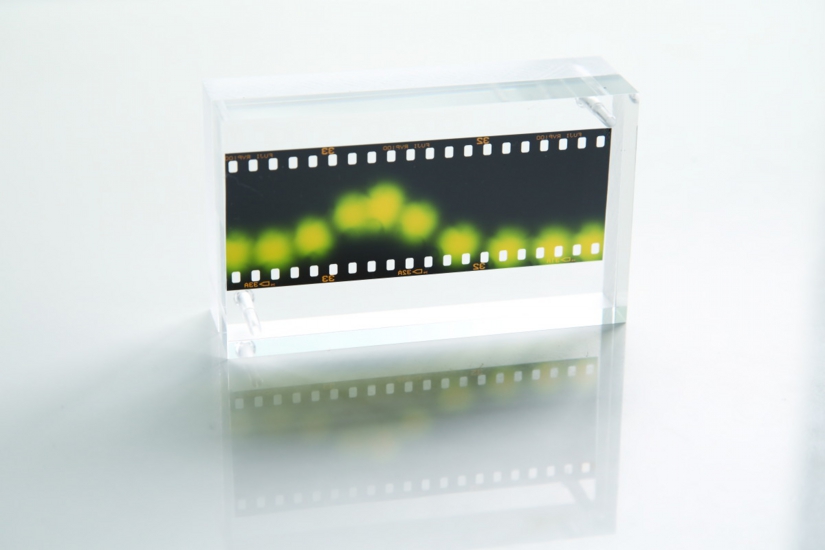 ホタルは、鞘翅目・ホタル科 に分類される昆虫の総称で、発光することで知られる昆虫です。
発光する理由はプロポーズのための光、刺激された時の光、
敵を驚かせるための光など諸説ありますがいずれも明確なことは分かっていません。
現代科学をもって究明されていないことは、
発光理由を何と捉えても間違いに値するものがないため自由を含んでおり、
そこには面白さや美しさのがあるのではないでしょうか。

一方、フィルムは光を定着できる特性があります。
デジタルカメラが主流になった今、それは粒子の世界を共有するような崇高な行為のように感じます。
また、フィルムを用いることは決して懐古主義でなく、新しい価値の提案です。

カメラを使わずにホタルの光をフィルムに直接露光する手法で、自由な光を留めました。



---


"Firefly" is a general term for insects a family of insects in the beetle order Coleoptera.
They are known for their use of bioluminescence.
While some have suggested that fireflies produce light to attract mates, in response to stimulus, or to startle enemies,
the light's exact purpose remains unknown.
As it has not been studied using modern science,
you could propose your own reason for the firefly's bioluminescence—there are no wrong answers,
and the freedom that brings is, potentially, a source for much interest and beauty.

By contrast, film has the ability to capture light. In today's age of digital cameras,
that seems like a noble act, connecting us to the world of particles.

The use of film is not mere nostalgism, but a way of creating entirely new value.
By preserving the firefly's light on film without a camera via direct exposure, I have captured their free, unfettered light.



---


Le terme de luciole désigne de manière générique les insectes de la famille des coléoptères (Coleoptera).
Elles sont réputées pour leur utilisation de la bioluminescence.
Alors qu'il a été avancé que les lucioles produisent de la lumière pour attirer des partenaires,
en réponse à un stimulus, ou pour surprendre les ennemis,
l'explication exacte de cette lumière reste inconnue.
Comme ce sujet n'a pas été étudié par les moyens scientifiques modernes,
vous pouvez avancer votre propre raisonnement pour expliquer la bioluminescence de la luciole;
il n'y a pas de mauvaises réponses,
et la liberté de raisonnement est potentiellement une source de beaucoup d'intérêt et de beauté.

En revanche, le film photo a la capacité de capter la lumière.
A l'ère des appareils photo numériques, cela s'apparente à un acte noble,
qui nous relie au monde des particules. L'utilisation du film ne relève pas simplement de la nostalgie,
c'est aussi un moyen de créer de la valeur ajoutée.

En préservant la lumière de la luciole sur le film sans appareil photo via une exposition directe,
j'ai réussi à capturer leur lumière libre et illimitée.